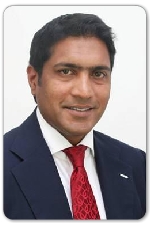 Dr. Prashant Koneru
RAKINDO KOVAI TOWNSHIP LTD, India's truly world-class master planner and developer, is a Joint Venture between RAKEEN, UAE and the Trimex Group, India. At Rakindo, we see the need, desire and the possibility for a whole new level of living. As lifestylists, our vision is to create modern theme based life spaces, which will offer world villas, unparalleled world-class amenities and a better quality of life.
The company is driven by a vision to develop townships that provide the life one deserves. This is achieved by focusing on Lifestyling™ as opposed to just dwelling spaces. Kovai Hills @ Coimbatore is Rakindo's flagship project.

With his vast experience in geriatric care and as a strong proponent of the "aging in place" concept, Dr. Prashant Koneru, CEO, Rakindo Developers, personally spearheads the development of senior living communities within the group's townships, and also oversees the groups foray into software living solutions especially focused around senior living.

Dr. Koneru is among the few that have made a successful transition from science to management. Although he started his career in medicine, he has excelled through the application of best practices from his varied experience in areas like operations, human relations and project management. Apart from golf, he enjoys pushing his team to perform beyond their limitations.


Website:
www.rakindo.com